Well, a lot has changed in my life since I last posted...
I graduated from school and passed my certifying exam (WooHoo!)

My husband got a promotion that has moved us to Broomfield, CO

I got a part-time job and a whole lot of time and apartment that I need to fill

We drove 29 hours and about 1400 miles to make it all the way to our new life and new home
Which brings me to this post...When I started this blog I was in school, crazy busy and in no place to create posts I was really proud of. Now, I have nothing but time! So I want to use this move and new found freedom to make my blog more of a priority. I love DIYing and I am trying to get more comfortable sharing my ideas (am I the only one that second guesses every sentence?!)...long story short...I want to start blogging more and to share my Colorado journey.
First of all, in Seattle we had a one-bedroom apartment that was about 490 sq ft. In our new apartment we have two-bedrooms and 1090 sq ft--now I realize that this is not as big as most houses, but after 2 years of a tiny apartment, the fact that I can't touch both walls of my kitchen at the same time is wonderful! Plus, we are in a beautiful apartment with lots of upgrades and a gorgeous view of the Rocky Mountain range--what more could I ask for, really?
So I definitely have some major projects to undertake with this new place (sorry, I'm a big fan of lists!) To start with...
Create an outdoor Oasis (one thing I was sorely missing in Seattle)

Create and hang new art (easier said than done being an indecisive person)

Put my stamp on a very cookie-cutter apartment
So regarding #3...I am absolutely in love with our apartment, that being said, it is very different than any other place I've rented before. Being a "luxury" complex, a lot of the design elements have been added in already (i.e. accent walls painted, framed mirrors hung in the bathrooms)...none of this is necessarily bad, in fact they've done a beautiful job. But, for a DIYer like me, I feel a severe lack of my own character...which I will attempt to infuse over the next 3-6 months :)
The point of this post I guess is to introduce our new place--I wasn't good about taking pictures when there were boxes stacked everywhere--but this is definitely far from the finished product I want...
Obviously this room has become our dumping ground...poor guest bed doesn't even have real pillows yet!
My favorite place so far is the little reading nook in our bedroom...we really wanted to be able to have a place to relax with a book in our new place. I still need to get another chair and hang pictures--but this makes our apartment feel like home already!
So, this is the beginning of our new life in Colorado. I'm so excited to share all my projects! Have any of you undertaken big moves like this? How do you put your own stamp on a rental space?
Thanks so much for stopping by! Be sure to follow me and check out these blogs I link with:
Check out other great projects at the places I link up: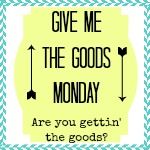 />