Since we've moved into this apartment my focus has really been on the main living areas. Our bedroom has really been neglected--so I've been working on making it a more complete space that is actually inviting and somewhere we would want to spend time in.
Here's what the bedroom looked like about a month or so ago...
Here's our new space...
I updated these great yard sale lamps and made some new pillow shams (tutorials for both projects will be posted soon)! I felt like the matching duvet cover and shams were way too matchy-matchy and I wanted to add some extra pattern and color. I really love the addition of a geometric pattern--I think it adds interest and makes the bed look a little less girly. I also recently posted about my nightstand update (
here
) and free dresser makeover (
here
).
I also found these great new pots ($3 each, I love Goodwill!) for our plants that add a bit of color and interest
I finally feel like our bedroom feels like a real, grown-up bedroom--not just a room that's been thrown together.
What do you think of my bedroom update?
Places I link up: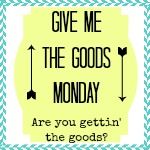 />