A month or so ago I walked out of our apartment building to run to the store and I saw this great dresser sitting out front with a "Free" sign on it! I immediately saw potential and lugged it up to our 3rd floor apartment!
Before... After...
I was super excited, I'd been looking for a dresser forever and not only was this one free--it was solid wood and in pretty darn good shape! I've taken a couple months to get around it for a few reasons--I wasn't sure what color I wanted to paint it and was also daunted with the task of painting it inside our little apartment.
I finally got around to it this week...I've been racking my brain to try to decide what color to go with, so I finally just went into the store and picked a color and went for it!
I decided on a color called Gray Mist (Benjamin Moore). I roughed up the wood, I didn't sand it all the way down because that's just not a possibility when you can't take it outside. I put about 3 coats of paint on it and the knobs (Picked out some great vintage Brass Knobs for $10 at a local antique store--the best part is that I still have 8 knobs!). Here's what it looked like at that point...
I loved the lighter, white color--but my husband and I both decided that it was missing something.
We decided to add a bit of a personal touch by adding a handwritten quote to the front of the dresser. We both love the quote we picked--
"If you only have one smile in you, give it to the people you love." -Maya Angelou
I used a Gold Sharpie Marker to handwrite the quote onto the front of the dresser. I first outlined the quote in pencil and then went over the outline twice with the marker. Afterwards I just went back and erased any pencil marks that were still showing.
So once I did this I was somewhere in between loving it and wanting to immediately paint over it! I loved the personal touch, but wasn't sure whether or not it was a little too kitchy. I like things to be personal but also classy and I thought it might be lacking on the classy side.
Enter my Aunt--she is an amazing DIYer (her and my mom were partners in crime during my childhood)--her suggestion was to add a bold color to the top. I love-loved that idea! So...with the help of my Aunt...I ended up with something I really love!!
I think the addition of the bold color not only adds a unique element, but it also splits the "statement" part of the piece so that there's not as much focus on my not-so-great handwriting.
So what do you think of my dress revamp?? Did I kick the kitchy?
Make sure to follow my blog to keep up-to-date on all my tips and DIYs!
Check out other great projects at the places I link up: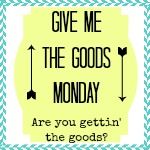 />