I've learned so much since we moved to Seattle a year ago...how to properly dress for rain, how to not only decorate a home--but make it feel elegant and grown-up (on a seriously tight budget), that I absolutely LOVE the Pacific Northwest...I've also really learned how to use the space you have and sometimes create a little more! Turns out that a lot of times you have to figure out how to store something in plain site without your place looking like you live at a storage unit.
So I wanted to share a few tips with all of you on how to not only use your space efficiently, but to make it feel elegant and comfortable at the same time...
#1. Baskets, baskets everywhere!
So hiding things in plain site can be difficult--it can feel cluttered and very dorm like. First off, I hate having all my magazines and TV remotes out everywhere--I like to be able to feel totally relaxed in my home and not have to shuffle things around to put down my cup of coffee or my feet up. Not only did it give us a extra storage--but it added that rustic element of the rattan. I used the same idea in our bedroom...I love that the baskets add an extra layer of texture and color that we wouldn't get otherwise.
Since then I've added a few more baskets around--one to hold my current knitting project (which is sorely in need of some attention right now) and another to hold my sewing/crafting supplies.
Baskets can definitely be a little on the spendy side--especially when you need quite a few of them--but here are a few tips on finding cheap baskets:
Goodwill (my answer for almost everything)--they always seem to have a full aisle dedicated to baskets--they won't all be pretty, or matching--but mixing and matching styles could be just what you need to add a little bit of texture to a room!
Michael's always have gobs and gobs of baskets, and if you catch them during a sale you can really get some good deals!
#2. Make use of under table/shelving floorspace!
So we put a metro shelf in our kitchen when we first moved in--of course I set it up in the conventional way--shelves evenly spaced all the way from top to bottom (I wish I had a before picture, but I don't). I was still struggling to find enough space for everything. Hello, the greatest part about a metro shelf is that it's completely customizable!!
So doing some rearranging on the shelves I was not only able to fit all my pots, pans and appliances more easily--but I gained 2 whole feet (vertically) of space underneath the shelf! Eventually I hope to add an old crate for extra storage as well.
I've also tried to make use of space underneath tables to display some decorative items, books or to hold magazines, etc
#3. Use your vertical space by putting in shelves!
So, I know some renters really don't like to do things like put in shelves because you have to go back and fill in the holes--sometimes repaint a wall, and I totally get that. For us, we're going to be in our apartment for a minimum of 2 years so I figured the benefits outweighed the consequences for us. The thing I like about shelves is that they're generally fairly inexpensive (I think the 4 shelves I bought at IKEA, which were about 4 feet long and 1 ft deep, including brackets cost me about $40). I also love the fact that they're really versatile and take advantage of wall space that a piece of furniture would just eat up. Previously, we had a corner unit desk in our office area--it looked so enormous in our room, but I didn't know what else to do. So I started doing some Pinning and came up with this idea!
Before...so obviously I've changed a lot since I took this picture--but you can see how the desk completely eats up this corner!
After...we got a smaller desk and put in the wall shelves and look how much room I got back! Not only did we gain in square footage--but now the room feels so much lighter and less cluttered!!
I still have some clutter to get rid of--but for me this is a vast improvemnt over the dark and clunky desk I had before!
It also helps to add light colored furniture to a small room--it feels so much more airy and less heavy.
You can see another example of using shelving in a small space at the Apartment Tour tab in our bedroom.
#4. Use your nicer dishes to decorate the kitchen
So...I have the typical rental kitchen...not great cabinets, old appliances...nothing fabulous. I also don't have a lot of money to dedicate to such a small space. The easiest tip I have to add some decorative function is to use make use of your nicer or more colorful dishes and store them our in the open. I had a group on white bowls I got as a wedding gift, so I used them to decorate the tops of the ledge on the top of the cabinets. Since we're only going to be living here another year, I didn't want to invest too much money into decorations here.
#5. Use cube shelves to add storage and counter space
Now I realize not every rental kitchen has the perfectly sized place to add cube shelves, however I feel like a lot of rental kitchens are so poorly designed and have dead space. I have little to no counter space and needed to make use of the awkward space next to the stovetop.
So not the greatest picture--but you can see that there's about a foot of awkward space next to the stove with no purpose. I searched high and low through 2nd hand stores to try to find the perfect thing to fit this space. I couldn't find anything...so after weeks of searching I finally looked around my house. Of course I found the perfect thing!
Not only did it add needed storage for bowls, cookbooks--but it gives me a place to put our knife block and a cutting block! It's amazing how much this little bit of extra counter makes a difference! It also helps to make the kitchen look a bit more finished.
#6. Open up cupboard space with magnetic spice rack
I decided to follow a tutorial I found on abeautifulmess.com and made a magnetic spice rack. I think it really helped to open up some counter space and they're really conveniently located next to the stove. Find the DIY tutorial
here
.
#7. Use dresser as media stand and storage
We weren't planning on having to put our dresser in the living room--but it's really been helpful for storage. We use this to store not only movies, but also boardgames, sweatshirts, etc. I would love to give this dresser a little bit more interest in the future with some paint--but it works for right now.
#8. Use boxes to eliminate desk clutter
There's a certain amount of paperwork you just can't get away from. I use simple white IKEA boxes to organize our papers next to the desk--I know at some point I have to be a grown up and buy a file cabinet--but for right now it's nice to have things be easily moved around.
#9. Find extra seating that is multi-functional
I recently created extra seating by creating Burlap Pouf Ottamans--it's nice to have a couple of extra couple seats, which can also be used as ottomans or rough coffee tables if need be. You can find my DIY
here
#10. Keep an Open Mind!
This one I can't stress enough...it's so easy to walk into a space and only see a few options. Try to take a step back and try things that you may not be sure about...don't feel like furniture always has to go against a wall...be open to interesting shelving options, like my old drawer towel shelf:
Or using old planter baskets to hold produce:
Hope some of these tips help! Would love to hear the ways you all add functional, decorative storage for your home!
Be sure to follow my blog to keep up with all my latest tips and DIYs!
Check out all the other great design ideas at the places I Link Up: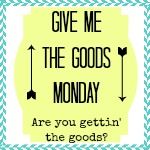 />