SSo this week I wanted to share some more of my rental secrets...when you're faced with the dreaded white walls and tan carpet it can be overwhelming...how do you make those white walls disappear and make the room feel intentional? Like you actually meant to have those white walls and tan carpet!
So here are my 6 ways to color without paint!
#1 Pillows
Ok...so I'm still working on this part in my own apartment...pillows are a fantastic way to add color, texture and pattern to a room. What I love about pillows is that you can take a crazy color or pattern, put it on a pillow, and it can make such a huge statement! Plus, when you walk into a room and there are these bright colored pillows, it draws your eye to them and away from parts of the room that you maybe don't enjoy as much...
Source:
Pinterest
Not only do the pillows add pops of color--but they also did a great job with the gallery wall and stripes above!
#2 Blankets/Throws
I love using quilts and throws to bring in color and pattern. The other great thing about blankets--you can find them so cheap at 2nd hand stores and yard sales! Every time I go to Goodwill I see so many quilts and blankets--not all of them are in great shape, but many of them just need to be run through the wash! By adding a colored throw over a couch or across a chair--it makes it to inviting and cozy!
#3 Art
There are SO many ways to incorporate art onto walls...I know it can be daunting and affordable art can be hard to find...but here are some simple, inexpensive ideas:
A Travel Map: So my husband and I both caught the travel bug, so for Christmas last year I wanted to make him a map so that we can keep track of all the amazing places we've been and remind us of everywhere we want to go. So I bought a huge wall map for about $30 and then I found a simple corkboard. Just using Podge I glued the map to the cork board. Now, every time we go somewhere we get to add a new pin to our map. It's a great piece of art to hang on the wall and it means so much to both of us!



Print your pictures: It is so cheap to have pictures printed at Costco or your local pharmacy (CVS, etc)! We've printed pictures of us on vacation, we've also printed pictures we've taken around Seattle (top shelf of office shot)--it's so easy and a great way to not only add character to your walls but your own personality! You don't have to be a great photographer to take great pictures--these were taken with my iPhone!
Goodwill Art: So this one I had to convince my husband to love (ok maybe just like), but Mr. Scary Blue Man (left side of our gallery wall) was only $3 at Goodwill! It's no Picaso--but it adds a pop of color and an interesting element to our bedroom!


#4 Vases
So I think this is the most simple...vases...they are SO cheap at 2nd hand stores (usually about $1 apiece)! An amazing trick I learned while planning our wedding last year...spray paint and ugly vases go together like peas and carrots!! It's so easy--buy any ugly vase (it doesn't matter if there's an ugly pattern or horrible color...just look at shape!). Then all you have to do is throw a coat of spray paint on the vase and let it dry! It's so easy to put together a collection of beautiful vases for the top of a bookcase or mantel.
#5 3 P's: Plants, Pots and Planters
I'm a big advocate of bringing the outside in! There are so many hardy plants you can bring into even the most harsh of circumstances (black thumb, low light). Just the extra green can really make all the difference--it makes the room feel more alive (haha). The other upside of bringing plants into a rental space are the pots and planters! What a great way to add a pop of color! There are so many beautiful pots out there that can totally bring in another accent color. My biggest problem with pots and planters are their cost! So I look for deals at places like Ross or Goodwill--you could even spray paint pots to bring them into your color scheme! If you're going to spray paint your pots--all you need to do is look for shape!
I love this example of using plants in the bathroom--Living in Seattle, my plants haven't had a chance to get quite that big yet!
#6 Area Rugs
Now I know everyone says to use area rugs in apartments to cover up carpet or to add pattern--but it's true. They are darn expensive though! My theory on this one, they are something you can bring with you to every place you're in and chances are they'll fit ascetically in any space you're in. Bottom line: If you can afford it, they're worth the investment!
Well, I hope some of these ideas help! How do you add color or character to a room without paint?
Make sure to follow me to keep up with all my latest tips and DIYs!!
Places I link up: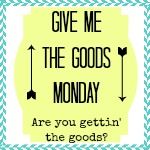 />